Coming Conference
WEF 100th Anniversary International Conference – Call for Papers
Call For Papers  CLOSES ON 30 AUGUST
Please CLICK here for details.
However, individual WEF sections meet and hold conferences from time to time.
IJMCS-WEF International Conference, 5-6 July 2018
Most recently, the UK section held a collaborative conference with the IJMCS (International Journal of Multidisciplinary and Comparative Studies) at the University of Greenwich World Heritage campus in London, UK, July 5-6, 2018. The theme of the conference was "Competing Interests and Conflicting Pressures in Higher Education:How Can We Balance the Competing Demands of Stakeholders of University Education?"
WEF Pre-Centenary Mini Conference, Holiday Inn Downtown Dubai, 3 September 2019, UAE
The WEF will hold a pre-centenary event as in-filled into the 2019 KIE Conference on 2-4 September in Dubai, UAE. The event will take place at Holiday Inn Downtown Dubai on 3 September.
The theme of the event is: "A Hundred Years of the New Education: Towards the Future of the Child". Call for papers/abstract is now open. The WEF event is free to registered KIE conference participants.
Please visit the conference website for papers/abstract submissions and details of registrations.T
Keynote speaker: Professor David Turner, University of South Wales, UK & Beijing Normal University, China
David Turner, PhD, is Professor Emeritus of Education at the University of South Wales, and Professor at the Institute for International and Comparative Education, Beijing Normal University, a former Treasurer, World Council of Comparative Education Societies. He is a Fellow of the Academy for Social Science and Honorary Member of the British Association for International and Comparative Education. After graduating in engineering, Professor Turner became a science teacher in secondary schools for nine years, before moving into teaching in higher education. He has taught in a variety of higher education institutions, teaching comparative education at the University of London Institute of Education before moving to the School for Independent Study at the North East London Polytechnic, now University of East London, UK. His book, Theory of Education, presented a novel approach to viewing education as a complex system, which is shaped by the choices that individuals within the system make. The book was very well received and won the World Education Fellowship Book Award in 2005/6. That book was followed by Theory and Practice of Education, published in 2007. Professor Turner believes that the role of theory in education is to provide a coherent and stringent critique of policy, and by that means to provide a framework for improving educational institutions. He is critical of much current policy in education, including the desire to see institutions ranked in league tables. He is committed to the view that the education system needs to accommodate diversity in all its expressions.

WEF-2nd Global Comparative & International Education Roundtable, Holiday Inn Downtown Dubai, 4 September 2019, UAE

Keynote speaker: Brian D. Denman, PhD, Secretary General, GlobalCIE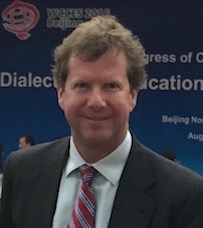 Dr Denman is a Senior Lecturer in Higher Education, Comparative and International Education in the School of Education at the School of at the University of New England, Australia, where he also serves as Research Team Leader for Learning, Assessment and Teaching. Previously, he was a as faculty director of an overseas university branch campus in China, director of international development for the first Prime Minister library in Australia (The John Curtin Centre), and study abroad coordinator, and a school principal/headteacher in the United States. Dr Denman is Secretary-General of GlobalCIE, and was a former Secretary-General of the World Comparative Education Societies (WCCES), UNESCO Fellow, UNE Council member (Board of Trustees), President of the Australian and New Zealand Comparative and International Education Society (ANZCIES), and Editor-in-Chief of the International Education Journal: Comparative Perspectives. Over the years, has held visiting professorships overseas at Hiroshima University, Minzu University of China, and Beijing Normal University and have studied overseas in Austria and Germany. Dr Denman's research and publications have focused on: Globalisation and Internationalisation of Higher Education, Comparative Education Research, and Educational Leadership – specifically governance, management, and community engagement.